Posted by Paul Cunningham Jnr on 28th Aug 2019
Debut crime author Paul Cunningham on his new novel, Snared - Available in paperback now from www.thebookshop.ie. ( all copies are brand new and unused) . https://thebookshop.ie/cunningham-paul-snared-debut-crime-novel-2019-pb-brand-new/
Support new Irish debut writers.. you can then tell everyone when they go on to become global bestselling successes that you read them first...
Here, Paul explains the genesis of the idea for the novel..
Browsing the internet one lazy Saturday afternoon, I stumbled upon a video on YouTube that showed a group of 'independent journalists' who had set up cameras in a house in England and were waiting for the doorbell to ring. On the doorstep stood a man who had been talking to what he believed to be a thirteen-year-old girl. He had arranged to meet this young girl at what he believed to be her address, supply her with alcohol and engage in a sexual relationship which was described in specific detail throughout the course of the conversations.
Unbeknownst to him, the girl was a decoy. A fake profile set up by one of the journalists. The alleged paedophile was invited into the house and given the opportunity to explain his actions. Throughout the course of the interview the man proclaimed his innocence, insisting he had done nothing wrong. He stated that he was lonely, needed someone to talk to and suffered from a number of mental health ailments. It transpired that the man in question had sent a number of 'indecent images' to what he believed to be a minor which he simply brushed off as 'a mistake'. Interest in such videos spread as the view count followed suit. Before long there were a number of paedophile hunting groups operating throughout the U.K.
It wasn't long before such videos began to be recorded on our shores. A number of hunting groups now operate in Ireland and one such group boasts a combined view count of over five million. Interest in this new trend shows no signs of slowing down. Paedophile hunting groups have been discussed on various TV and Radio programmes, been the subject matter of a number of tabloid headlines and there was also a documentary show made following the life of a paedophile hunter.
Hardly a week goes by without seeing a video of a grown man (and sometimes women) wanting to meet a minor. In one particular case the alleged paedophile was told by one of the hunters that life as he knew it was over. He would be arrested, which would most likely result in him losing his job, ruining his marriage and restrict access to his own children. At that point of the video I hit pause and thought, if someone were to offer the alleged paedophile a way out of the situation, he'd most likely do anything to make it all disappear. The idea for Snared was born.
My fictitious character 'Frankie' lures men from internet chat rooms and dating apps in the same way the hunting groups do in their videos. Once Frankie confronts the alleged paedophile with printouts of the chat they had with who they believe to be a minor and any photographs they may have sent, Frankie offers them an ultimatum. Pay him €10,000 or all of the information goes to the Gardaí.
Frankie turns the tables on any paedophile he encounters. The power is in his hands and now it is the paedophile who has nowhere to hide and nobody to tell. If they confess to their actions they know they will be arrested and severely alter the course of their life. If they fail to pay Frankie he will take great pleasure in destroying them. For the paedophiles who pay, they hope that everything is forgotten and their hush-hush money is enough to satisfy Frankie. But Frankie has other ideas.
Snared takes the reader on an eye opening journey through the darkest corners of the internet and onto to streets of Dublin. It tackles a very topical issue which needs to be addressed. For centuries, parents have been instructing their children to 'never speak to strangers'. We need to realise that this warning must apply online also. Children are spending more time online than ever before and have access to the internet in more ways than ever. We must ensure that future generations know the dangers of online grooming and know what to do if they suspect they are being targeted.
It's been an arduous journey getting Snared to this point. Some agents/publishers were loath to accept a sample of the manuscript simply because of the subject matter it explores. There was interest from a U.K based agent and publisher but both ultimately backed away from offering a contract. I then began the process of re-writing Snared and added more detail and some six-thousand words. The re-write seemed to have the desired effect as two Irish based publishers showed very strong interest. One of the Irish publishers went on to call my book 'gripping, edgy and brilliant' however a deal never materialized. Although disappointed, it was those very encouraging words from the Irish publisher that made me want to self-publish my work.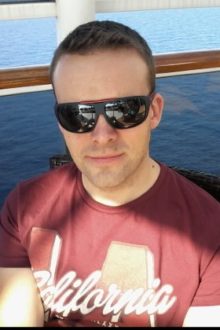 The author, Paul Cunningham ( image from www.writing.ie) Paul is on Twitter - @pcunninghamjnr
Also, quick reminder to follow thebookshop.ie on twitter - @TheBookshopIE.
You can purchase the book here - https://thebookshop.ie/cunningham-paul-snared-debut-crime-novel-2019-pb-brand-new/